Applied Learning
Training, Seminars, & Workshops
Relation Integration
Connections, Networking & Lasting Impact
FMS offers certified courses in every department so, that every student has the opportunity to receive quality learning, impartation, and leadership training.
FMS is launching a new hybrid online learning program that can be accessed anywhere in the world.
Research & Innovation
International Publications
SU staff and Alumni have published several articles in international Journals and Most current students can access to publish articles and also innovate new thinks. 
The Faculty of Management Science was founded in 1999. The Faculty has several years of experience in disseminating qualified or trained and up-to-date business education to large groups by renewing its curriculum and learning environments with human capital that can combine scientific knowledge with the country's needs. 
Our Faculty has been a pioneer in Business Education fields in Somalia.
Learn all about SIMAD University in ONLY 7 minutes.
There are currently no events.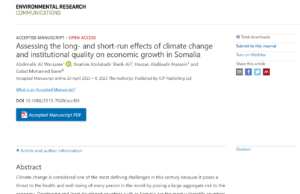 Climate change is considered one of the most defining challenges...